Main » 2012 » March » 7 » Claim Your Max Payne 3 Cemetery Map Tombstones
---
Claim Your Max Payne 3 Cemetery Map Tombstones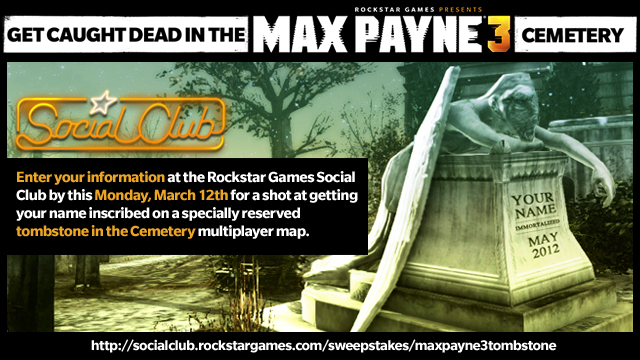 Rockstar Games have reserved three extra plots in the Max Payne 3 multiplayer map 'Cemetery' for a few lucky Social Club members. A special, ghoulish chance to see your name etched into a tombstone on the map for all to see (US fans can also still get a shot at claiming a tombstone via the promotion currently running with GameStop).
How to become immortalized in Max Payne 3's multiplayer? Social Club members, act quickly -
click here and enter your first and last name
between now and end of day this Monday, March 12th. Three entries will be picked at random on March 13th - each will be contacted immediately thereafter to confirm their identity and claim the tombstones.
Views: 404 | Added by:

Admin