Main » 2010 » October » 27 » Undead Nightmare: Now Available for Download on Xbox LIVE and PlayStation Network
---
Undead Nightmare: Now Available for Download on Xbox LIVE and PlayStation Network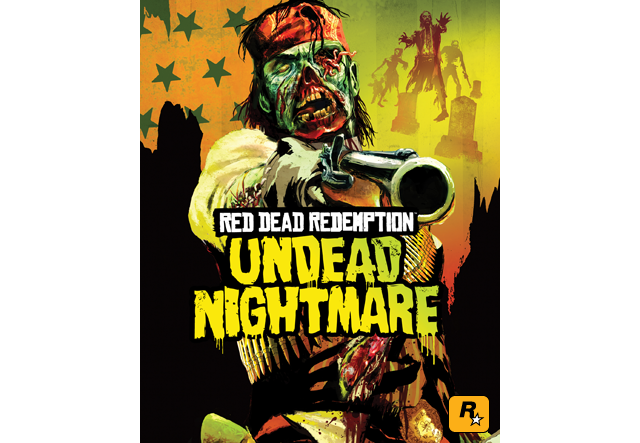 Today - the Undead Nightmare Pack - the highly-anticipated epic and horrifying new downloadable content for Red Dead Redemption, is now available for download to your PlayStation 3 and Xbox 360, via PlayStation Network ($9.99) and Xbox LIVE (800 Microsoft Points) respectively and features:

AN ALL-NEW ORIGINAL SINGLE-PLAYER STORY
John Marston must ride out into the vast and terrifying world – and survive long enough to find a cure for the zombie plague ravaging the frontier and reawakening the dead.

HORDES OF UNDEAD AND UNIQUE CLASSES OF ZOMBIE
Including the leaping nimble Bolters, the powerful and corpulent Bruisers, and the repulsive, acid-spitting Retchers...

NEW ZOMBIE-KILLIN' WEAPONS
To aid your quest, including the Blunderbuss – which can be loaded with the looted remains of fallen zombies – plus the Torch, Phosphorous Bullets, and more...

NEW "UNDEAD OVERRUN" CO-OP MULTIPLAYER
Team up with others online to fend off waves of bloodthirsty living dead – also includes new "Land Grab" Free Roam Multiplayer mode.

MYTHICAL CREATURES TO ENCOUNTER AND DISCOVER
Including the legendary Four Horses of the Apocalypse, and many more surprises.

Also coming November 23rd in North America and November 26th in Europe – Undead Nightmare, a single, stand-alone disc that bundles together for the first time ever, the Undead Nightmare Pack, the Outlaws to the End Co-Op Mission Pack, the Legends and Killers Pack, the Liars and Cheats Pack and all the Multiplayer Free Roam modes released to date.

TO DOWNLOAD UNDEAD NIGHTMARE ON PLAYSTATION NETWORK
Once you've registered for a PlayStation Network account you can then scroll to the PlayStation Network icon on your XMB and select PlayStation Store. The Red Dead Redemption: Undead Nightmare Pack is available from the Add-On section.

TO DOWNLOAD UNDEAD NIGHTMARE ON XBOX LIVE
Simply go to Xbox LIVE Marketplace with your connected Xbox 360 console and select the Red Dead Redemption: Undead Nightmare Pack from the Game Add-ons section of Marketplace. Alternatively, you can download the DLC from the Xbox LIVE Marketplace website and have it ready and waiting for you the next time you go online with your Xbox 360 (requires Xbox LIVE Gold Membership for online play).

Views: 167 | Added by:

Admin