Main » 2010 » November » 2 » New Undead Nightmare Avatars and Xbox LIVE Theme Now Available
---
New Undead Nightmare Avatars and Xbox LIVE Theme Now Available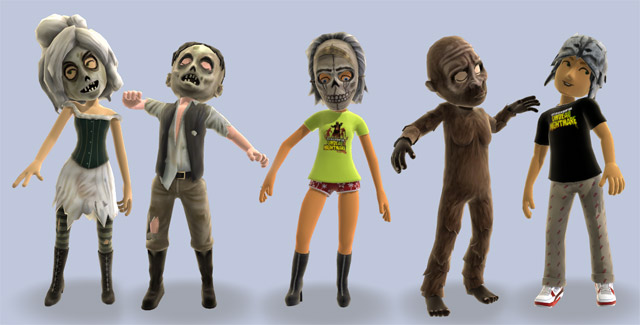 Rockstar Games present these new Undead Nightmare themed Xbox LIVE Avatars available now from the Xbox LIVE Marketplace.
There are seven Avatar items available to download:
Armadillo Undead Outfit
Undead Mask
Undead Nightmare Logo T-Shirt
Undead Posse T-Shirt
Sasquatch Outfit
Sasquatch Hunter Hat
Grab 'em now at the Xbox LIVE Avatar Marketplace. Also available is an Undead Nightmare Xbox Theme Dashboard backdrop which features a moonlit spooky scene set in the Walton's Gang hideout, Pleasance House, surrounded by a horde of zombies. Each Avatar on your Friends channel comes with an assortment of custom Undead Nightmare themed vignettes: the eerie cemetery archway beside Coot's Chapel in Cholla Springs, the unwelcoming dark streets and alleys of Thieves' Landing, and terrifying tombstones with the gnarled arms of the undead reaching for the night sky just to name a few.
For those on PSN, there is also an Undead Nightmare Premium Theme currently available on PSN in Europe and launching in the US on November 16th - featuring custom icons and high resolution images of John Marston's adventures across the nightmarish frontier.
Views: 206 | Added by:

Admin